January 24, 2012
Orks - kan-did kamera
Say hello to Larry, Curly, and Shemp.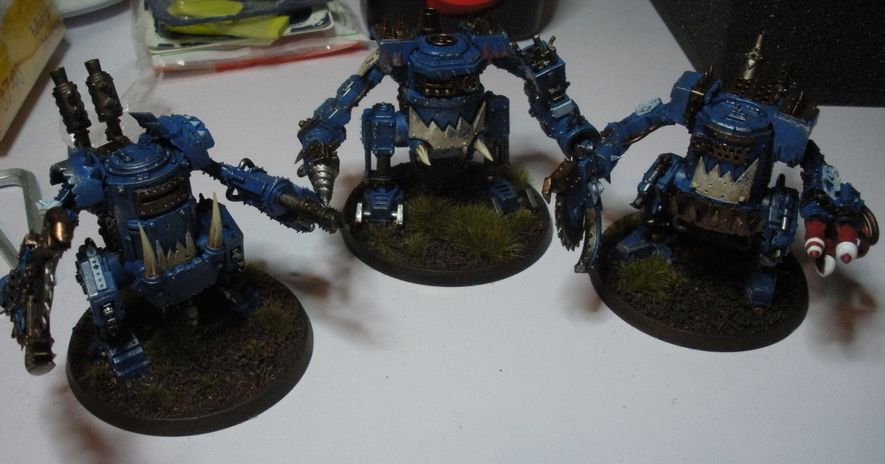 I don't know which one Shemp is, either.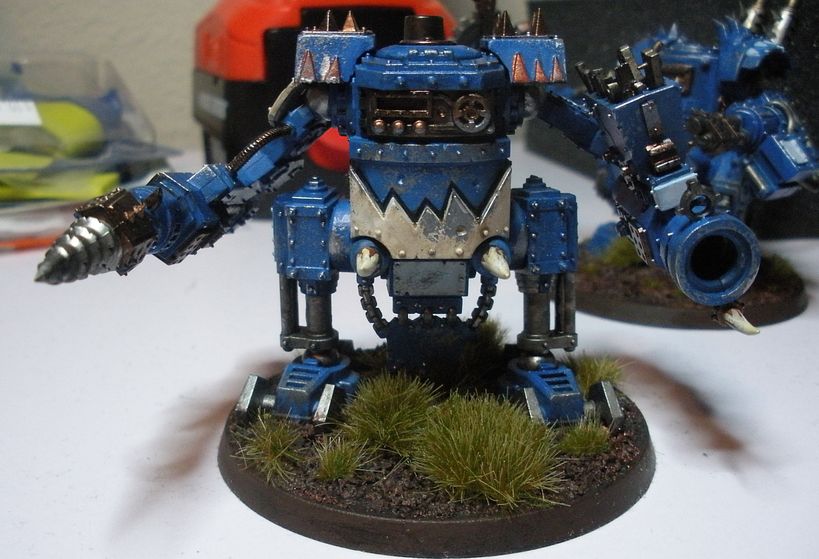 These things took entirely too long. Part of it's just pure motivation to work on them, as plenty of games came out in the last few months, and I've been working 50-60 pretty much every week. Part of it is that I kept trying new stuff. For example, I'm pretty happy with the paint wear, which I applied with a sponge - gives a nice worn effect in a way that would be really hard with an ordinary brush. New grass too, and the tuft-type is a lot more fun to put on than the loose static grass. Looks a lot nicer too, I think.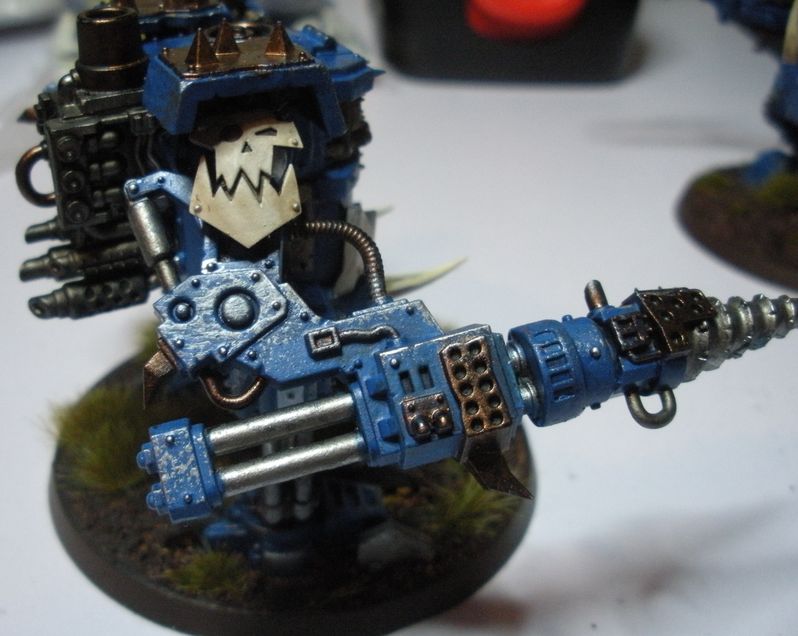 I'm happy with how this came out (frankly, a lot happier than I am with my photography!) The shoulder icon was one of those things where I kept changing my mind on what I wanted to do with it, but it worked out extremely well in the end.
My tusk technique just plain needs work. I'm trying something that's fairly advanced, but to pull it off you have to have a rock-steady hand, and I just haven't developed it yet. That said, even this doesn't look half-bad on the tabletop, so it'll do until I get a little better. (Turns out that lots of orks mount a horn or tusk somewhere, so I'll need to get this down eventually...)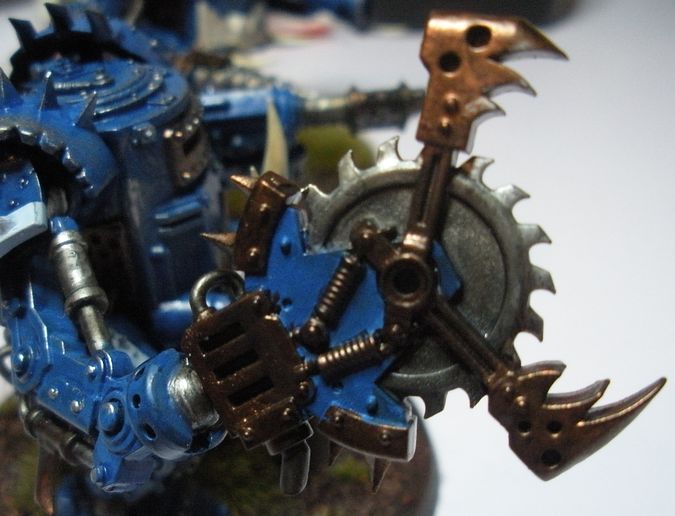 Remind me to be nice to this guy.
The models for these killa kans were redone after I started playing. The original ones were very plain, basically a garbage can with a visor and a claw of some type tacked on. The new ones have a lot more character. There's something to be said for getting models that are good in the game (and these don't do too badly there either), but there are a few where I look at it and go "ugh, that's just not very nice." These went from that to "get a box!" For that matter, I've got another one I haven't even put together yet...
I was worried about the rokkits on this one. Initially I didn't want to do anything fancy with them, but with just the red they were kind of flat and uninteresting. One of the guys from the 3++ chat suggested I try the bullseye effect on one of them. My freehand painting is, well... just barely adequate to the task, but that's better than the ugly mess I was expecting. Again, looks a little better in real life - this photo is about 200% life size.
Next up, I think, will be another unit of shoota boyz. I like playing with the painted models, and orks work a lot better in bigger groups; really I need 100 or more to put on the table, but I only have 30 regular boyz painted and 20 of those are the choppa-and-pistol-armed variety. It's like they say, you can never have enuff dakka...
Posted by: Avatar_exADV at 02:49 AM | Comments (9) | Add Comment
Post contains 503 words, total size 3 kb.
1
Larry, Curly, and Shemp? What's up with that, ain't gonna be no Moe?
Those look pretty nice to me, but I have never painted a miniature--I gave up when doing plastic models of cars and airplanes, because I wasn't good at it. I wonder, though: for the freehand stuff on the rockets (sorry, can't make myself spell it goofy) if you could do something like put polyclay on the areas you don't want painted, as a masking agent? It wouldn't be expensive to try out, anyway, but if it worked it would help with the edges, because you could use tools to sculpt 'em straight, where tape would obviously be a bitch to use on anything that small.
Posted by: Rick C at January 24, 2012 11:30 AM (tXSoK)
2
You can definitely mask areas off. However, my sculpting skills are significantly below my painting, so even if it's possible that someone could manage to sculpt 'em straight, -I- would probably have significant trouble doing it. (Not so bad on large flat surfaces, but on a tiny curved one?)
Posted by: Avatar_exADV at January 24, 2012 04:42 PM (pWQz4)
3
Larry, Curly, and Shemp? What's up with that, ain't gonna be no Moe?
Nah, the eyes aren't big enough, they aren't sad, and it isn't snowing.

Posted by: Wonderduck at January 25, 2012 01:34 AM (f/6aJ)
4
Oh, and I think the bullseye thing worked well. Remember, you're talking about orks doing the painting, not the Tau. I'd expect the paint edges to be a little raggedy if the Ork Rembrandt was involved.
Posted by: Wonderduck at January 25, 2012 01:37 AM (f/6aJ)
5
Would that be Picassork?
Posted by: Avatar_exADV at January 25, 2012 03:50 AM (GJQTS)
Posted by: Wonderduck at January 25, 2012 07:23 PM (f/6aJ)
7
<i>Nah, the eyes aren't big enough, they aren't sad, and it isn't snowing.</i>
Derp.
Regarding your comment #2, I wasn't talking about anything complex. What I had in mind was, to paint, say, the bulls-eye, you take a little bit of polyclay, roll it into a log, make that a ring, and smoosh it onto the tip of the missile, where you wanted the masked area, and then use an x-acto knife or something to straighten it out.
When you get right down to it, I'd imagine Orks would be devotees of the school of painting that involves putting paint in front of a small explosive, as seen on a recent Mythbusters episode.
Even coverage? What's that?
Posted by: RickC at January 26, 2012 02:07 PM (rMbV4)
8
Derp.
You're just jealous that you didn't think of it first.
Posted by: Wonderduck at January 27, 2012 10:25 PM (f/6aJ)
9
No, I'm wishing you hadn't thought of it, either!
Actually there's a garage about 10 miles from where I live, named Moe Shop. I keep meaning to take a picture. I don't know how to get a link, but if you Google 32.909903,-96.717775 and do a street view, you should see it. (Zooming out a tiny bit, it's in the NE corner of the intersection of Audelia and Forest.
Posted by: RickC at January 30, 2012 07:38 PM (/5bLf)
Post is locked.
16kb generated in 0.0392 seconds; 30 queries returned 58 records.
Powered by Minx 1.1.4-pink.