March 30, 2012
So crazy it just might work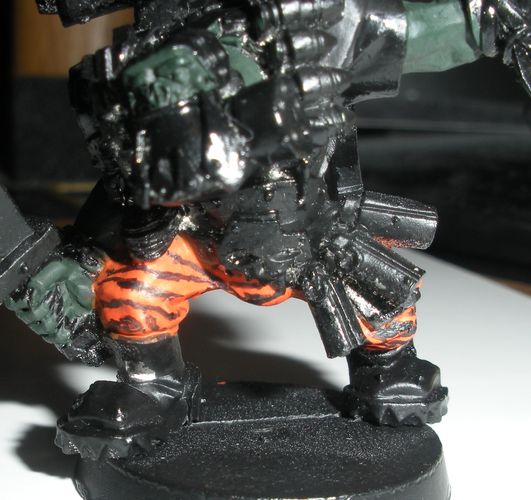 Ork kommandos are noted for their use of camouflage. This is otherwise completely un-orky (the idea that you would want to hide from a fight is just wrong!), but kommandos do it anyway... partly because sneaking up on 'umies is a laff riot, partly because it lets them plant da bommz and make da boomz, and orks love watching things explode.
They are not noted for GOOD use of camouflage. They often use bright contrasting colors for camo. Heck, the use of tiger stripes (as something that works in nature) is practically inspired compared to what an ork might come up with on their own...
But from a painting perspective it's kind of unknown - I've seen some weird stuff but not any tiger stripe camo orks before. I don't know if that's because it's just an awesome idea whose time has come, or whether it actually means I'm batshit crazy, or even whether the orange paint is up to it, so I painted up this guy's pants as a test model. Crazy? Just maybe.
Posted by: Avatar_exADV at 03:00 AM | Comments (2) | Add Comment
Post contains 181 words, total size 1 kb.
1
You're making them wear Cleveland Browns zubazs? Good lord man, have you no shame?
Posted by: Wonderduck at March 31, 2012 08:23 AM (AzTWp)
2
Orks are a lot like Browns fans!
Posted by: Avatar_exADV at April 01, 2012 11:08 PM (GJQTS)
Comments are disabled. Post is locked.
10kb generated in CPU 0.03, elapsed 0.0374 seconds.
36 queries taking 0.0265 seconds, 50 records returned.
Powered by Minx 1.1.6c-pink.