March 30, 2015
Kawaiikon - Adventures in Con Dealing
This year's Kawaiikon is over! (keels over)
Had some real potential for awkwardness, since the ex and I were Richard's only help for his booth for two years running. As it happens it wasn't a problem, though... the ex has some health trouble that kept her home and Richard brought out a few other friends: his partner Kaz and old friends Lucan and Tim. The former was one of the ADV translation gang, and the latter is another vet from the #animedvd channel who's mad for concerts. I hadn't had the opportunity to hang with either in a long time and a great time was had by all. We did gangbusters business too - who would have thought that Richard's strategy of putting the lucky bag stuff in Gurren Lagann backpacks and branding them "manly bags" would move so many?
Loot: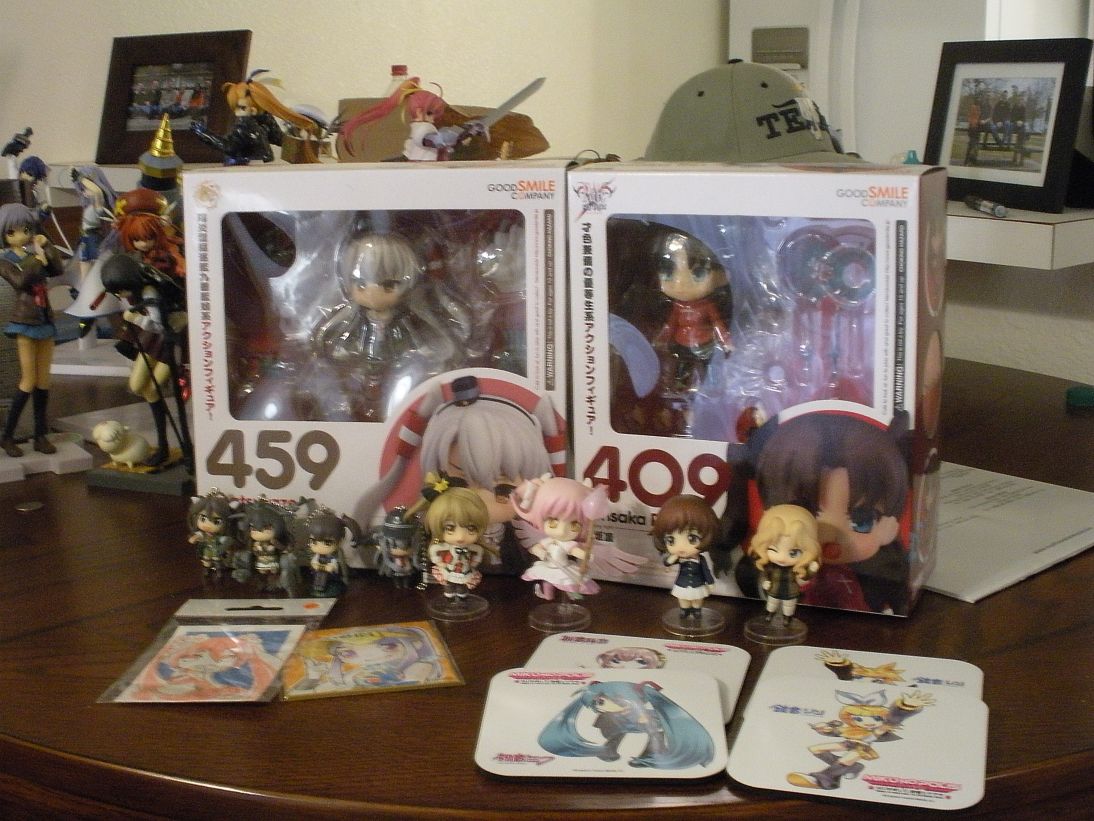 (sorry for lousy photo, busy day)
First time I've ever left a con with more money in my pocket than I arrived with! Major purchases were two nendos - Amatsukaze to keep Shimakaze company, and Rin because
RIN.
I've wanted one for quite some time. Got lucky on the prize figures too - two GuP ones netted me a Yukari on the first open, and Kotori from a LL one is never a bad thing (no "loser" draws there except Nico, heh). I took the Madoka one as part of my pay and what do you know, the special figure came out...
The little guys off to the side are some Kancolle keychains we were selling, though we forgot about them until Sunday. Miku coasters for fun, and the two little art pieces are from the Nemu Nemu booth. I also picked up a few buttons from artist's alley, which I'll snap a pic of later once I sort them all out. Also not pictured is the entire run of Aria on DVD, plus Blu-rays of Railgun S1.
Had fun, ate fantastic Japanese from the best-kept secret restaurant in Kaka'ako, walked through darkened downtown streets with far too much money in my pocket, ran into a mother/daughter pair of Lucky Star fans... good weekend all around. Hopefully my back will forgive me in a couple days! Getting old for this stuff...
Posted by: Avatar_exADV at 10:33 PM | No Comments | Add Comment
Post contains 378 words, total size 2 kb.
13kb generated in CPU 0.0073, elapsed 0.0807 seconds.
30 queries taking 0.0759 seconds, 50 records returned.
Powered by Minx 1.1.6c-pink.