December 28, 2014
Girls Und Thunder
Was in a GuP mood, so I decided to install the following: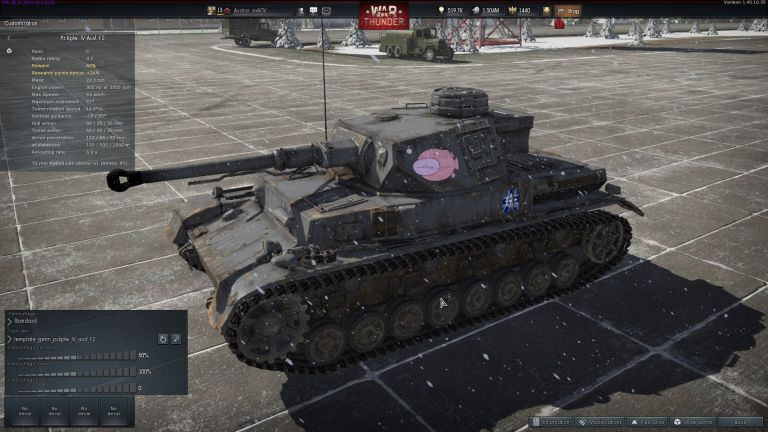 That anglerfish is as good as an extra 50mm of armor plate, evidently. Immediately took it out for a spin and had an absolutely monstrous round, 8 kills, 2 assists, no losses. Took a bit of damage but nothing that kept me from scooting back and fixing it up. At least one T-34 and two SU-122s in that score total! (Pretty sure the SU-122s took some pretty severe damage from my initial shot, a shell from one of those would open up a Panzer IVF like a ration tin.)
Unfortunately other people can't see your custom skin. Fortunately you can't see theirs, though...
The game's been doing a Christmas/New Year's bonus. Normally every day the first win you get from each nation gives you a double bonus... but during the event, it's a 5x bonus. ("Win" so you probably have a good score instead of a multiplier on a crappy score...) At any rate, I've been unlocking stuff like mad.
-US tanks: M2, M3 Stuart, M3A1 Stuart, M3 Lee, M4A1 Sherman, M5A1 Stuart
-US planes: P36, P38G, P400, P40E-1, F4F, F6F-3, F4U-1a, SBD Dauntless, A-20
-German tanks: Whoa nelly. Pz 38(t) A and F. Pz III E, F, J, J1, L, M. Pz IV C, E, F1, F2. StuG III A, F. Marder III. Couple of AA guns.
-Russkie tanks: BT-7. T-28, T-50, T-34 ('40, '41, and '42). KV1-L11. SU-76M and SU-122.
-British planes: Hurricane Mk I, IIB. Spitfire Mk1a. Blenheim.
-Japanese planes: A6M2-N, A6M2. Ki-43-I. Ki-61 (both).
Been playing tanks on the teams with tanks, but I've unlocked everything I can on the US tanks so far (more advanced tanks are locked unless you are in the "beta test", on the live server, which they're charging for. No thanks, I don't want to pay to beta test...) Had some serious luck with the US planes lately, either the .50s are doing better or I'm better with them...
Posted by: Avatar_exADV at 03:10 AM | Comments (4) | Add Comment
Post contains 333 words, total size 2 kb.
Posted by: Wonderduck at December 29, 2014 05:14 PM (jGQR+)
Posted by: Avatar_exADV at December 29, 2014 05:57 PM (zJsIy)
Posted by: Wonderduck at February 26, 2015 12:31 AM (jGQR+)
Posted by: Avatar_exADV at February 26, 2015 02:57 AM (a38fD)
Comments are disabled.
12kb generated in CPU 0.0257, elapsed 0.1167 seconds.
30 queries taking 0.1009 seconds, 53 records returned.
Powered by Minx 1.1.6c-pink.